People Photo Album Information Job Information Links Where are the EC's now? People Locator
Welcome to the World Wide Airborne Command Post Page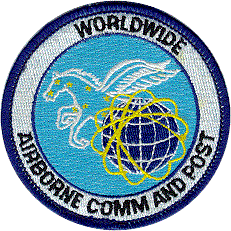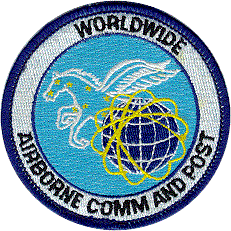 We created this page to serve as a global meeting place for anyone ever involved with the World Wide Airborne Command Post Mission.
After meeting up with a few ex PACCS troops and reminising about the good old days, we became curious about what others were doing. We finally decided to do something about it.
Think of this page as a clearing house for finding, and contacting people you served with. We'll also post items that may be of interest. This should also be a good place to network with people for job opportunities. You'd be surprised where your background in the Airborne Command Post can lead you.
Latest Updates to the Page.
04/28/2009
Added David Ririe to the people page.
07/20/2008
Updated John Geasa's Contact Information.
10/29/2007
Added Christopher A. Hetkey to the people page.
4/23/2007
Updated Robert Parkers Personal Information.
He is also requesting help finding any high level technical descriptions on the systems onboard the PACCS aircraft. He's working on a masters project to do a bunch of systems engineering diagrams and documents for a non architected system. Thought it would be cool to do this project with memory of the systems on board the EC-135. If you can help drop him an email.
.
Created by John Geasa and Richard Maddox